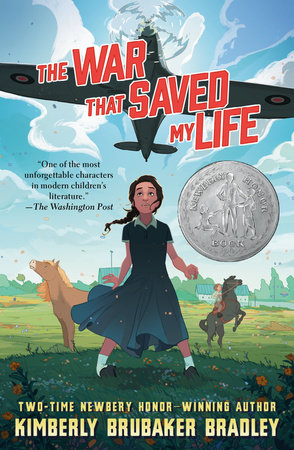 Ada has never left her apartment in London all her life. Her mother is so ashamed of Ada's crippled right foot that she won't even let her go outside. Not that Ada can go anywhere, her foot makes it too painful to walk or even put weight on it. Ada spends her days in the little one room apartment just sitting around. Messing up or talking back, or even daring to leave, results in a beating, being slapped, or spending the night in the cabinet, a filthy cupboard inhabited by roaches.

A war is going on, World War II to be exact. Ada's mom is going to send Ada's younger brother Jamie away from the war to protect him, and leave Ada in the apartment, but Ada sneaks away with Jamie.

Ada and Jamie go with all the other children who are being evacuated. People from the country take the children into their homes and provide them with food and shelter. Ada and Jamie go with a Miss Susan Smith, which is funny because Ada's last name is Smith to begin with. Miss Smith immediately notices Ada limping when she walks (Ada taught herself to walk, she mostly crawled around before) and takes her to see a doctor. Turns out, Ada's foot is crippled from a condition called clubfoot, which is common and can be surgically fixed. One big problem: they have to get Ada's mother's permission. Miss Smith sends letters, which receive no reply. So either Ada's mom can't read, or she isn't bothering to read the letters.

Ada is left with a whirlwind of thoughts. She is constantly thinking about the war, her "new" life, and the family she left back home in London. The only thing that seems to calm them is when she lets her mind wander, or when she is out riding Butter, Miss Smith's pony. When Ada isn't thinking, her head is clear, but when she tries to think, she just gets confused.

Ada doesn't want to get "used to" Miss Smith, nor does she want to go home. Miss Smith won't beat or slap Ada and Jamie, even when they might deserve it. With Miss Smith, she feels more free. But she knows she can't have it both ways.

This story is yet another WWII story about a young girl caught in a difficult situation, but unlike my other reviews (Making Bombs for Hitler and The Devil's Arithmetic), there are no scenes with Nazis in this book. Ada hears about the bombs and the news of the war only on the radio. Instead, this book focuses on Ada's conflict: Ada doesn't know where she belongs. Is it her mother's London apartment, or Miss Smith's country home?

The blurb on the cover says "Finding where you belong is always worth the fight." Well, maybe Ada has found where she belongs, all she needs to do is just know it.

---------------

Daddy's afterthoughts: This 2015 release is a 2016 Newberry Honor book. It is a book that is set during the war, but it is really not a "war" book, in the historical fiction sense of some of Julia's other reviewed books. It might be more accurate to say that the war outside is just a metaphor for the war in her family, or the war in her heart over her sense of loyalty between one Smith (her mother) and the other Smith (her caretaker). There is some war detail in the book; Ada narrates historical events as they happen, in parallel with her own story. The distance the book puts Ada at from the actual battlefront makes her more of a spectator, a reporter, and allows her to keep at least some of her innocence. She is worried, but she is not in the thick of it.

There is something very Pete's Dragon or Harry Potter about the arc of this story - going from a household where there was little love, to an ad hoc adoptive family who is able to make a connection and possibly, as the title suggests, "save a life." Commonsense Media gives it very high marks for Educational Value, Positive Role Models, and Positive Messages, and while it rates mid-high in the Violence category, this book is potentially far less intense for most readers than a lot of YA WWII fiction with a Holocaust theme.