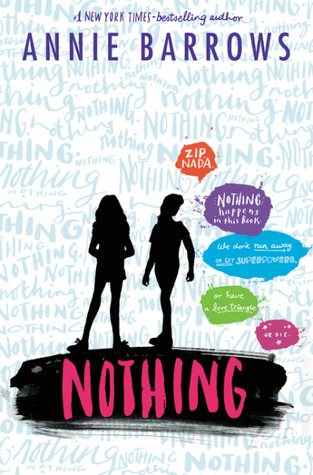 Charlotte and Frankie are two girls who believe that absolutely NOTHING happens in their lives. So Charlotte decides to write a story that records everything that happens during their sophomore year of high school to prove that their lives are full of nothing. She writes about her friends, her crushes, other people's girlfriends and boyfriends. She writes about her looks, her best friend's looks, parties she goes to, and a bunch of other things that fifteen-year-old girls tend to do (shopping and stuff like that).
And then she realizes something.
She realizes that real life isn't fiction. Real life isn't a book or TV show. Charlotte and Frankie want a lot of drama in their lives, and that just doesn't always happen.
Nothing is not for young readers. Nothing has more than a few swear words on every page, and Charlotte and Frankie talk about sex. They also do drugs (they smoke weed) and drink. Now, don't get me wrong. I liked the book. It made me laugh a lot, mostly at the unpredictable behaviors of teenagers. But it's not a kids' book.

Even a book about "nothing" must have a purpose. This one teaches that real life isn't a fantasy world like you'd see on TV, or read in a book. The problem is, many people think that it is. Charlotte and Frankie do, but they start to realize that, possibly, their lives were already "maybe, just perfect."

Just remember that your life isn't nothing. Life is full of activity and excitement; you may just need to write it down to see it!
--------------------------
Daddy's afterthoughts:
I can't possibly add thoughts any better than the author herself. The advance reader's copy Julia got her hands on had this gem tucked inside. It pretty much says it all. Enjoy!