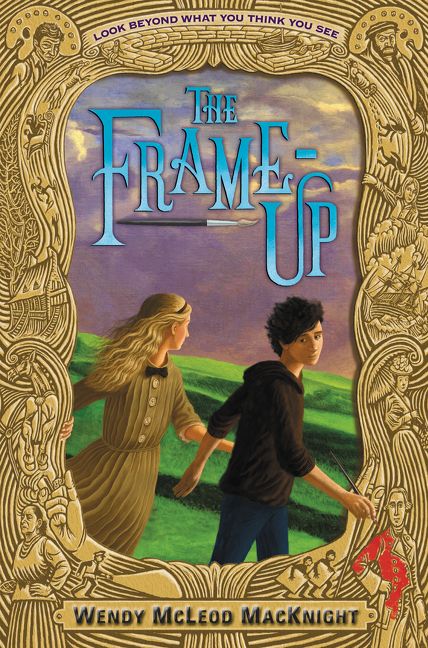 Mona has lived in the painting Mona Dunn (her portrait) in the Beaverbrook Art Gallery for almost a century. Ever since she was moved to the gallery, she has obeyed the number one rule: No one is allowed to know the paintings are alive.
All of the gallery's "residents" obey that rule, among other rules, and live peacefully. They can move around through the different paintings as easily as you or I can go to different rooms in a house. They attend meetings. They hang out with each other and socialize. They laugh; they play. They generally live like you or I do, but they can never leave the paintings.
And they never age.
A restless 13-year-old girl, Mona loves to explore the gallery. She enjoys talking to the friends she has made in other paintings, and admiring the scenery of some of the
landscapes.
Sargent Singer is the 12-year-old son of the gallery director. He's a talented painter and is visiting his father for the summer. His parents are divorced, and he hasn't seen his father for a while.
One day, Sargent is looking around the gallery when he catches sight of Mona's portrait. He thinks he sees her sticking out her tongue at some rude children in the museum. But... that's impossible. He tries to convince himself that he is only hallucinating.
The museum closes for the day, but as the gallery director's son, he has the freedom to move around after hours.
He returns to Mona's painting, and he notices that it is empty!
He glances around at the other paintings, and out of the corner of his eye, he sees a shape in the painting
San Vigilio, Lake Garda
that shouldn't be there.
Peering closer, he realizes that the shape is Mona Dunn.
Mona is horrified, believing that the biggest and most important secret of the Beaverbrook Gallery has been exposed. But he and Mona become friends, as they are forced to team up to solve mysteries about what is really going on at the gallery.
How can such a friendship survive, when he is real and she is just... paint?
The Frame-Up is perfect for fans of the movie Night at the Museum, and, like in Harry Potter, the paintings come to life. (This novel actually makes references to both movies.) And there is a scene involving movie night at the museum's summer art camp that will make you giggle. There are also some similarities to a wonderful book I reviewed recently about a girl trapped in a painting on the side of a china platter, Joplin, Wishing by Diane Stanley. (Click the link to read my review!)
The blurb on the cover says "Look beyond what you think you see." And that's always what you must do.
-------------------------
Daddy's afterthoughts: This book takes the Toy Story trope and has some fun with it. (I know, Toy Story wasn't first, but it's the one most kids will register with. For a nice internet rabbit hole to fall down reading about this stuff, try this.) The copy of the book Julia had (a pre-publication draft) only has black-and-white reproductions of the artworks, all of which are real, but I have read that published versions of the book contain full-color plates. For young readers who are art lovers or who fancy themselves painters, the book dips its feet in that world nicely. In fact, it reminds me personally of my favorite board game growing up in the 70s as a child, Masterpiece, where the goal is to buy and sell classic paintings at auction for a profit. (Follow the link for a short video explaining the game - it is a great way to introduce kids to great art, though the game is out of print now.)