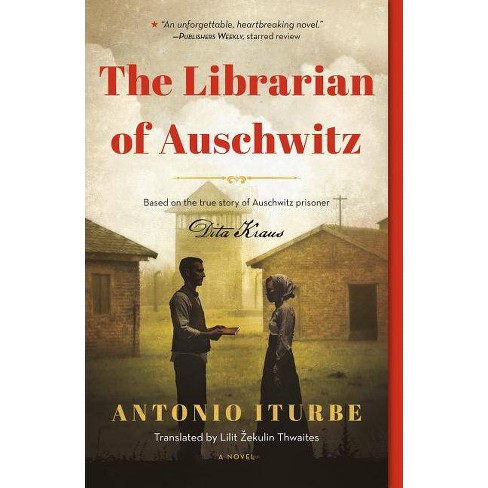 Edita Adler, or "Dita" as she's known, is fourteen years old and living in the Auschwitz concentration camp. She doesn't work in the warehouses, the crematoriums, the kitchen, or the factories. She works in Block 31, the "family camp." This camp is where families can live together, and children can run around and play. It is also the site of a secret school. She works as the secret librarian for Block 31's secret school, housing and delivering the few books that the camp has to teachers within the camp. Books and education in Auschwitz are forbidden, and those who are caught teaching, or those who are caught with a book in their possession, are executed.

Dita (a real person!) is running these books to various teachers in the camp. Everyone is on edge; an informer, an unexpected inspection, an SS guard walking in, someone acting suspicious, anything could give it all away. All of these risk factors make Dita's job very dangerous.

On top of all this, the family camp is regularly visited by Dr. Josef Mengele, a man infamous for performing deadly experiments and vivisection (dissecting a live subject) on live and, often awake, Jewish and Gypsy (Roma) prisoners, often twins and/or children. Mengele seems to be keeping a watch on Dita, as if he can't wait for the day when it is she that is on his dissection table.

Fredy Hirsch, the Jew in charge of running the family camp, is the one who entrusted Dita with the books. He puts on a strong, brave, happy demeanor, but secretly has many troubles of his own. All prisoners are tattooed, and his tattoo has the marking "SB6" along with everyone else who had arrived in the camp last September, signifying that they would receive "special treatment" after six months. He is also gay, and people who were gay, lesbian, or transgender were described as "diseased" or "sick" by the Nazis. During the night, Hirsch is secretly meeting up with his boyfriend in the camp.

The books that Dita literally guards with her life are more valuable than gold in the camp, and more deadly than a bullet. But she guards them for Fredy, for the teachers, and for the children they are responsible for. These books remind her that there is the possibility of life, of a world after the war, where she can finally live without fear and sadness.

The Librarian of Auschwitz is a WWII novel, based on the true story of Dita, who is still alive today at 91, and author Arturo Iturbe's interview with her is also found in the book.


The atrocities of Auschwitz-Birkenau are in no way sugarcoated in this book. Hangings, starvation, gas chambers, crematoriums, mass graves, and the gruesome experiments by Dr. Mengele are all described in astonishing detail.

The Holocaust was the mass slaughter of 13 million people, of which 6 million were Jewish, during WWII. People were first evicted from their homes, and sent to live in filthy ghettos. They were then sent to concentration (read "death") camps, where they were forcibly separated, brothers and sisters, husbands and wives, parents and children, and cruelly sorted and separated according to gender and age. They were then either immediately killed, or put to work, doing backbreaking, deadly, or simply boring jobs such as making bombs, moving rocks, working in the kitchens, or (and in my opinion, these were the worst) working in the gas chambers and ovens.

The Librarian of Auschwitz depicts the horrors and heartbreaks that took place in the Hell on Earth that was Auschwitz-Birkenau. But in the middle of that Hell on Earth, for a little while, there was hope.